Spanish for fun! is an Immersion Full-time Preschool and Language Institute for Children and Adults. In our preschool, we offer an outstanding, personalized and original curriculum geared to foster all of a child's developmental areas in a complete Spanish immersion program. We also offer many other programs through our language institute, which are open for all the people who are interested in learning Spanish as a second language.
We have been operating since 2000 with a great response from the community and we are planning to continue expanding to other areas.
Immersion Full-Time Preschool
For children ages 2 months to 5 years old, we offer a program where children are stimulated to develop skills in every area (cognitive, social/emotional, linguistic, and motor skills) for each age in a complete Spanish immersion.
Your child could be fluent in Spanish before Kindergarten.
---
Immersion Summer Camp
For children ages 2 months to 6 years old, our Spanish Immersion Summer Camp gives your child the opportunity to do many different activities such as Arts and Crafts, Computer Lessons, Games and Sports, Gymnastics, Cooking Lessons, Latin Folklore, Splash Days and much more! All this in a full Spanish Immersion Program.
Registration Form for Summer Camp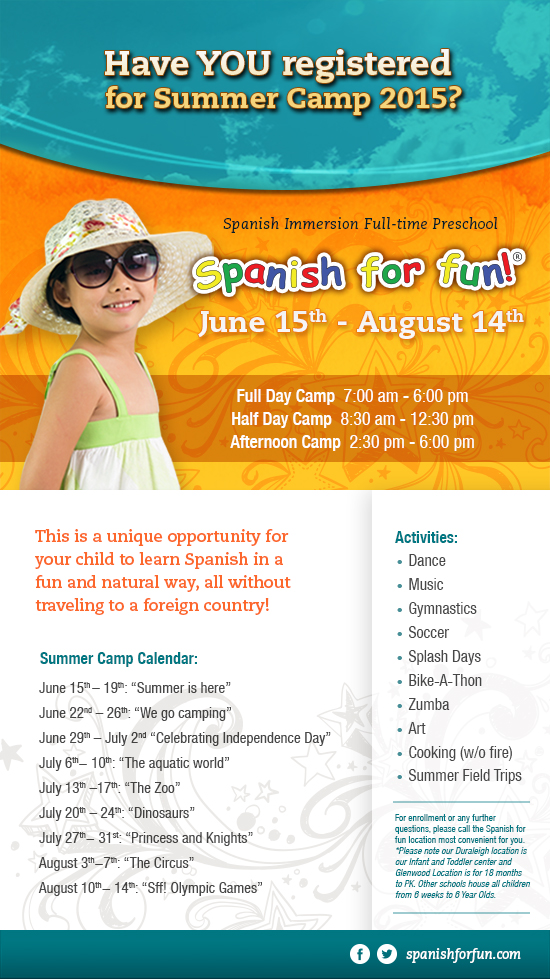 ---
Language Institute
We offer a variety of classes and lessons for both children and adults. We can also tailor a program to meet your needs, no matter how advanced you are.
---